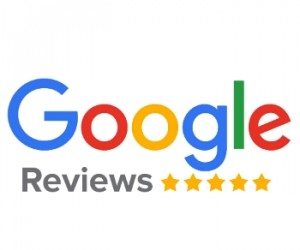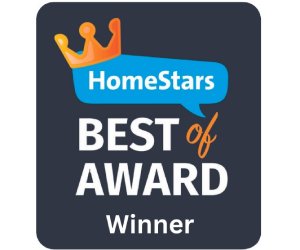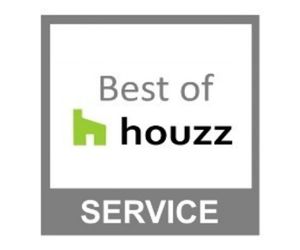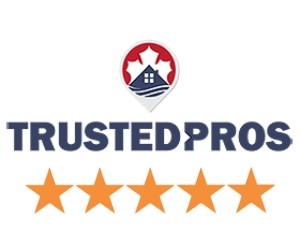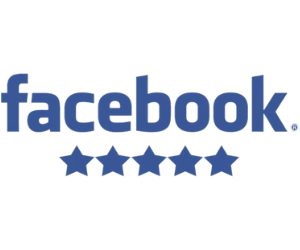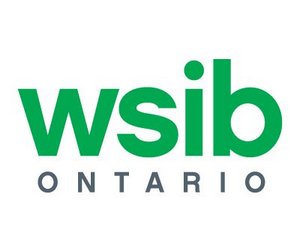 Why Contract US For Your Interlock Project?
We Love What We Do
When you love what you do, everything else follows.
Our tight-knit team of interlock contractors is dedicated to creating beautiful and functional exteriors for every client. We want to share our expertise while guiding you through a smooth and enjoyable process, as you watch your house transform. 
Interlocking is a huge factor that plays into the functionality and aesthetic of your exterior. You have a vision for your home, and we want to be the one to help you turn that vision into a reality so that returning home every day is a breath of fresh air.
We provide services for all interlocking projects – backyards, driveways, patios, porches, walkways, and pools – to cater to all of your needs.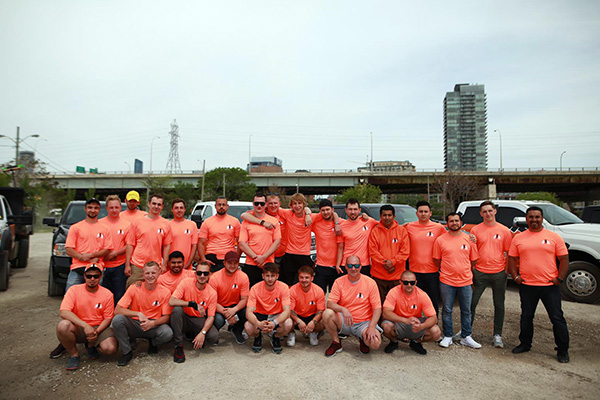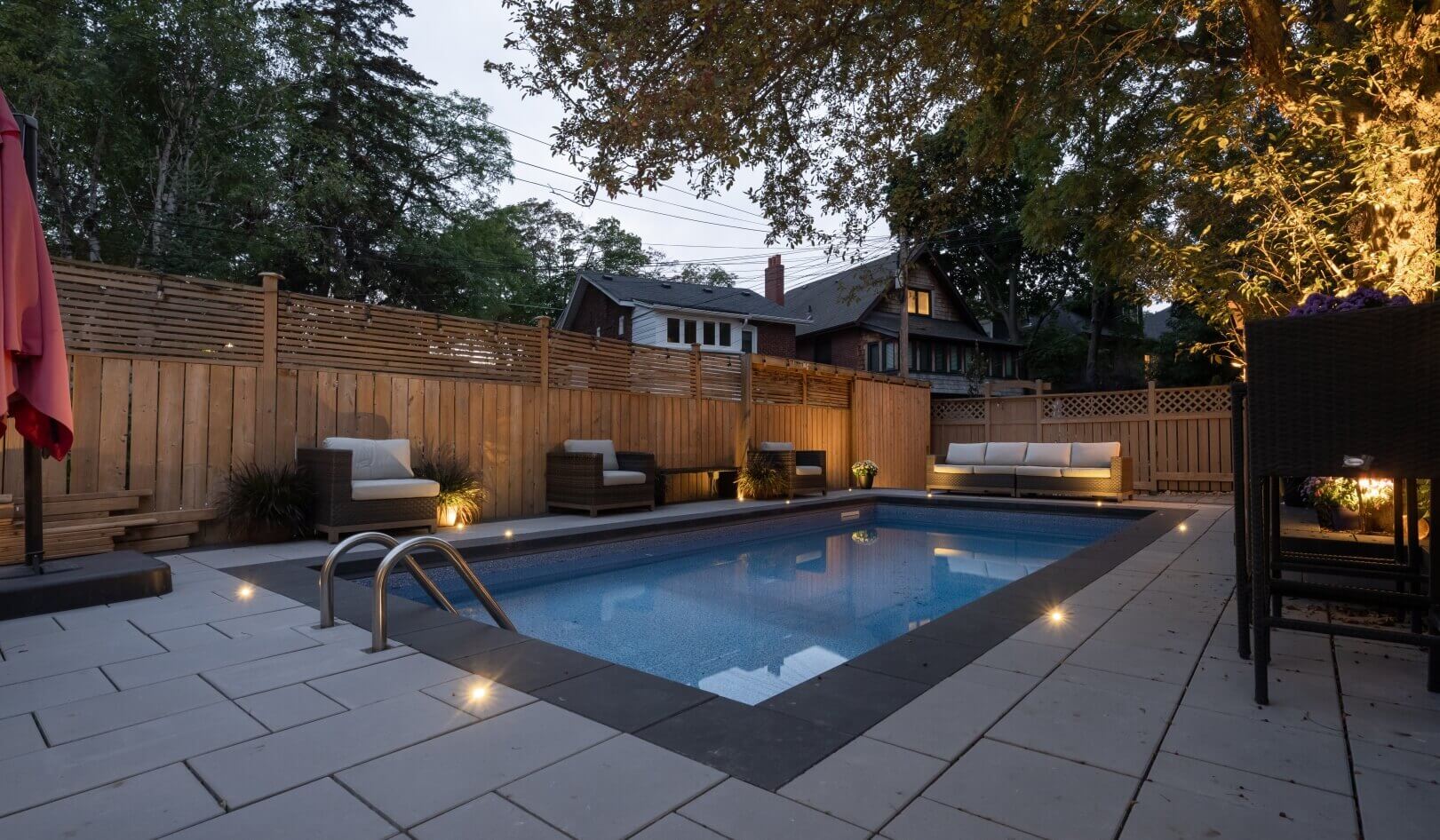 Award-Winning Interlocking Contractors
What Makes Us So Great?
We understand everything you expect to get out of your interlocking project, and we are prepared to deliver it, and then some. Our team offers affordable, client-focused services, that involve everything from the design phase through to construction. 
On top of that, we are part of your community. We don't want to work for you, we want to work with you. We understand that you take pride in making your home a beautiful space. We want your vision to guide our work so you end up with a beautiful interlocking job that you won't ever get tired of.
Let us create a unique and personalized design, catered just for you. With 70+ years of interlocking experience, our contractors have the knowledge, skills, and customer care required to transform your home. 
Over the years, our efforts have not gone unnoticed by our clients. Backed by hundreds of reviews, we have developed a solid foundation with our clients, built on trust, honesty, communication, and quality service.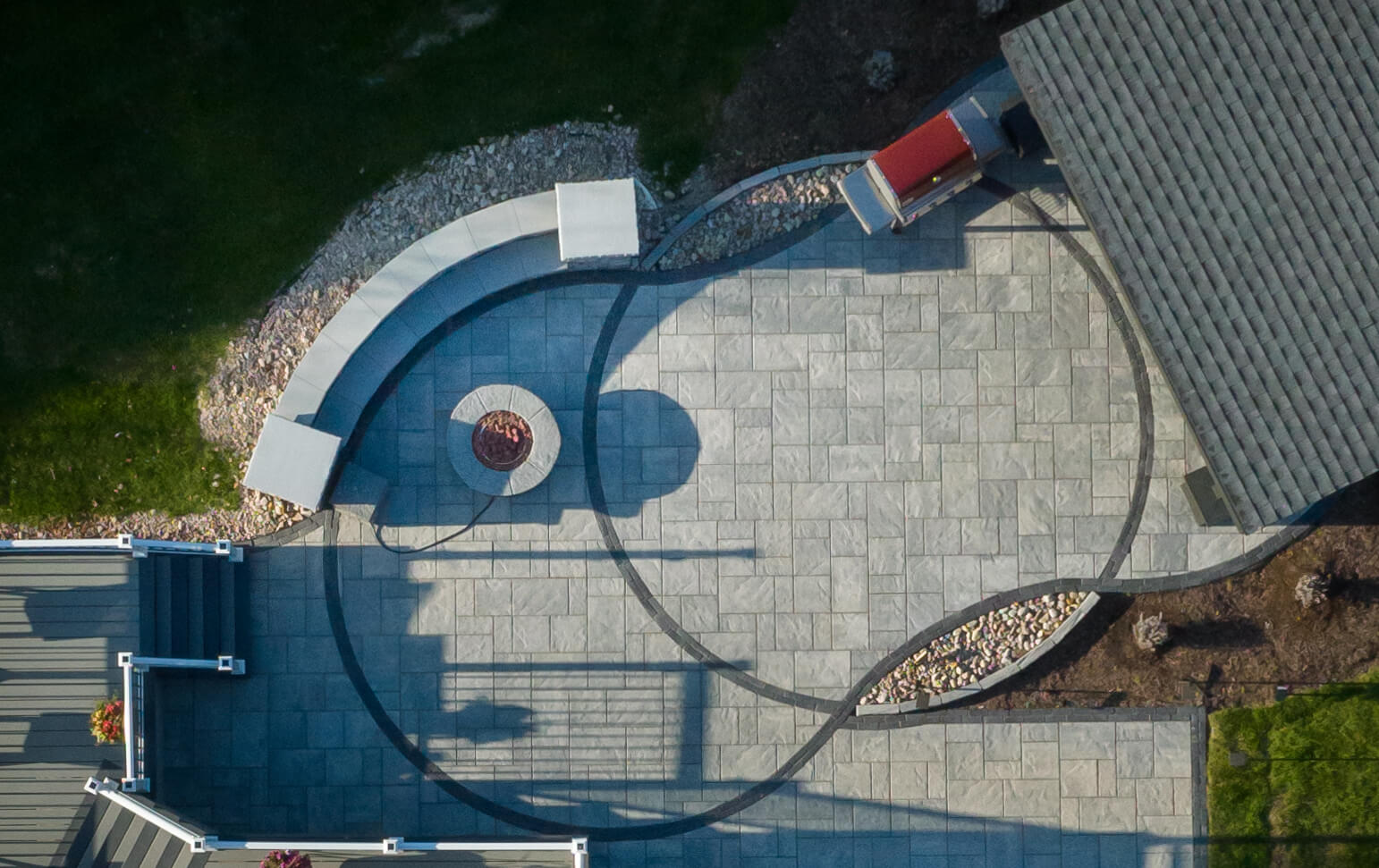 Interlock Contracting Process
If interlocking is brand-new to you, we understand it can be a bit overwhelming. Here are 5 simple steps that break down how our process will work: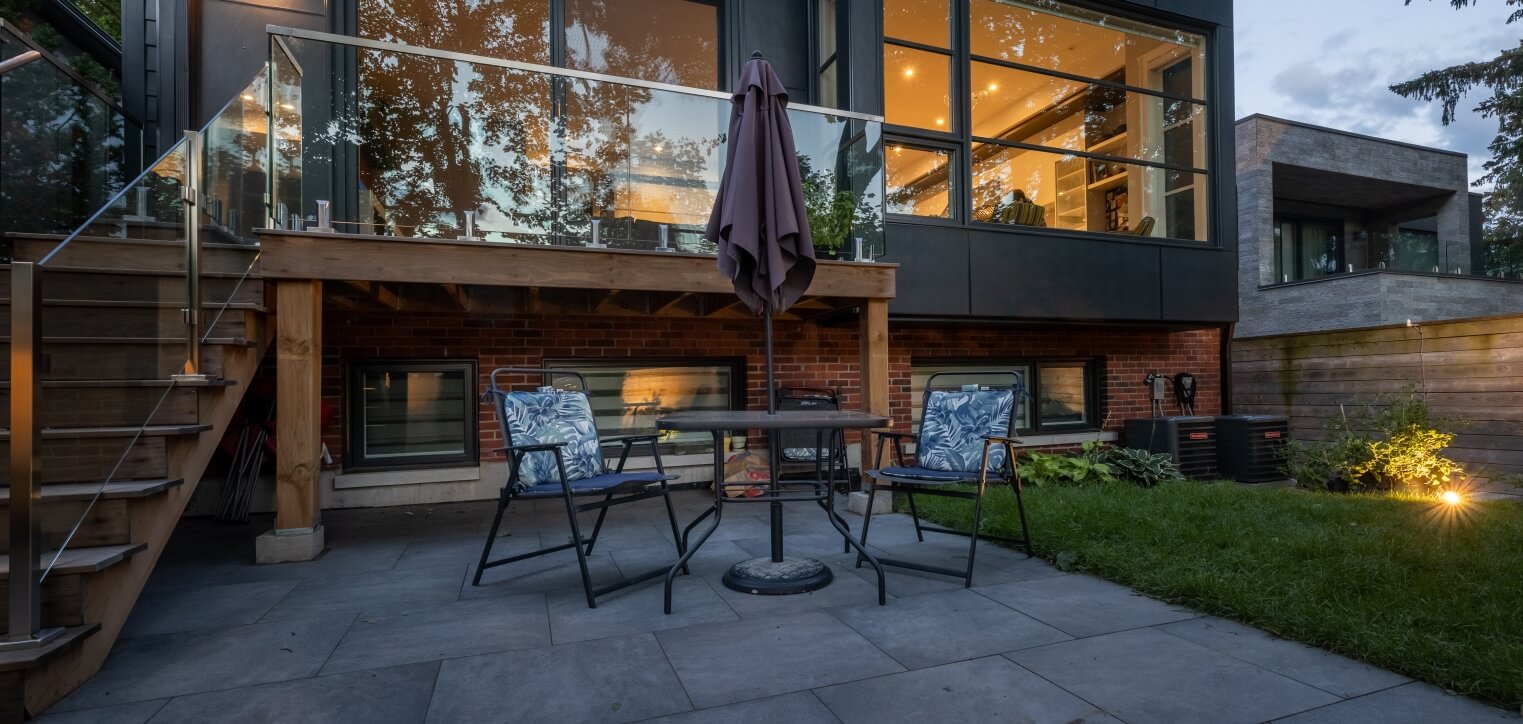 1. The Discussion
We want to set up a meeting with you, risk-free! Having an initial discussion will enable us to set expectations for your project. We will discuss all things interlocking – budget, timeline, project scope, vision, and so much more. We will also sort out finer details that could be helpful, such as measurements, images, or notes.
2. The Design
This step will totally depend on your specific project. Simpler, routine interlocking jobs may not necessarily require a design portion, especially if we have reference images to work off of. However, if you are hiring us for a very unique or specific project, we definitely would not want t-o skip this step. Based on our initial discussion, the designs will be a strong representation of what you can expect from us when your construction is finished. Any tweaks or corrections will be implemented here.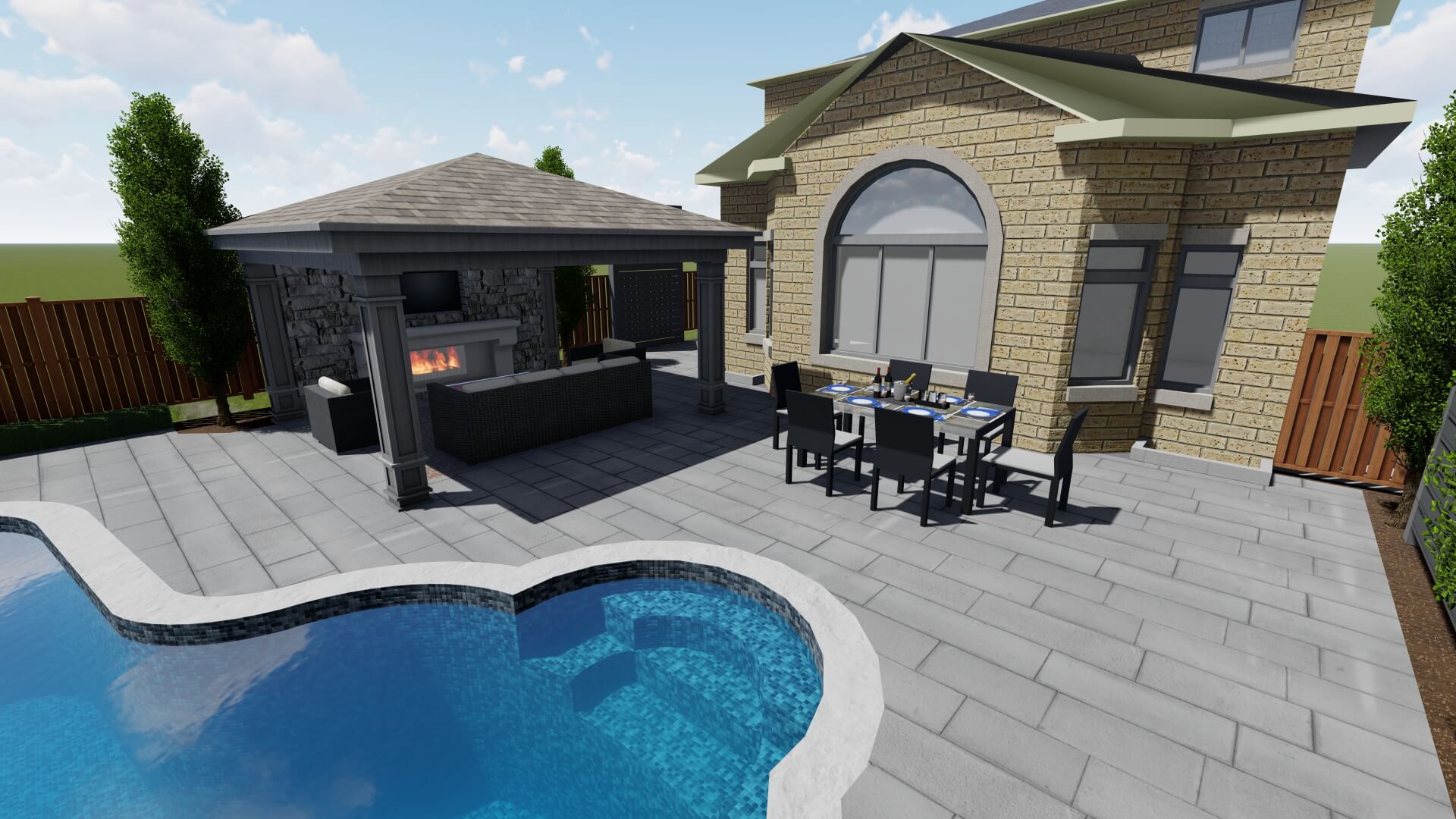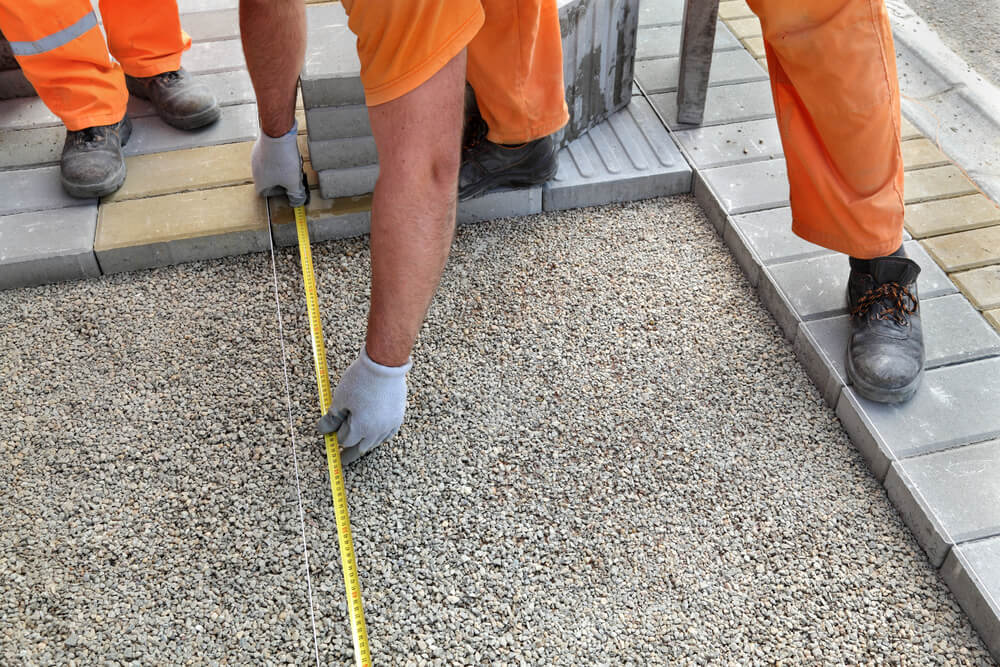 3. The Estimate
Once we have settled on a design, we will provide you with an estimate for your project. The estimate will incorporate your estimated budget and timeline. And just like that, the anticipation for the construction begins!
4. The Documentation
If any permits need to be obtained, it will be done at this point. If you don't know where to start, don't worry, we have plenty of experience with this and would love to help. Please note, permits and area codes will vary based on each municipality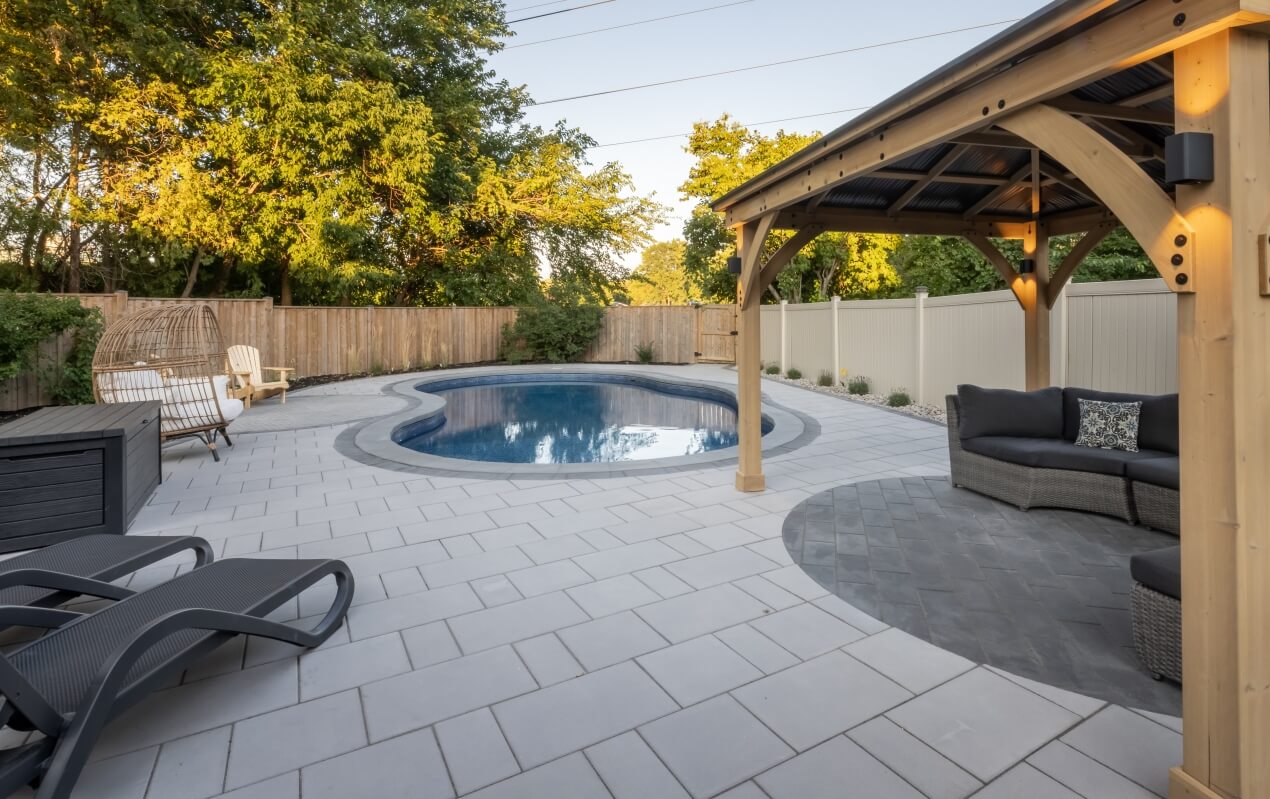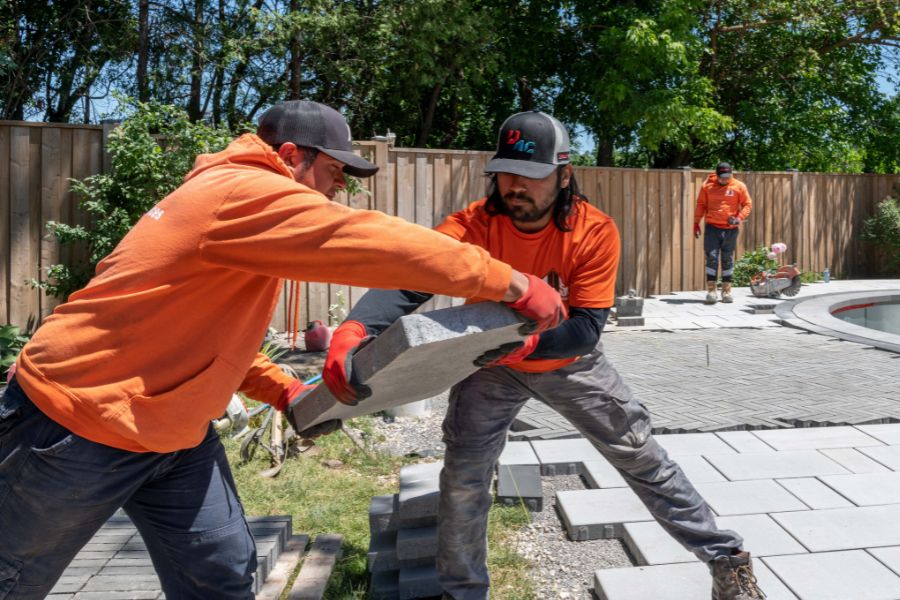 5. The Construction
We will guide you throughout the entire construction process to ensure yo0u are completely comfortable and in-the-know. Working closely will enable us to make sure we are able to exceed your project expectations by staying on track in terms of meeting budget and timeline, while producing excellent results.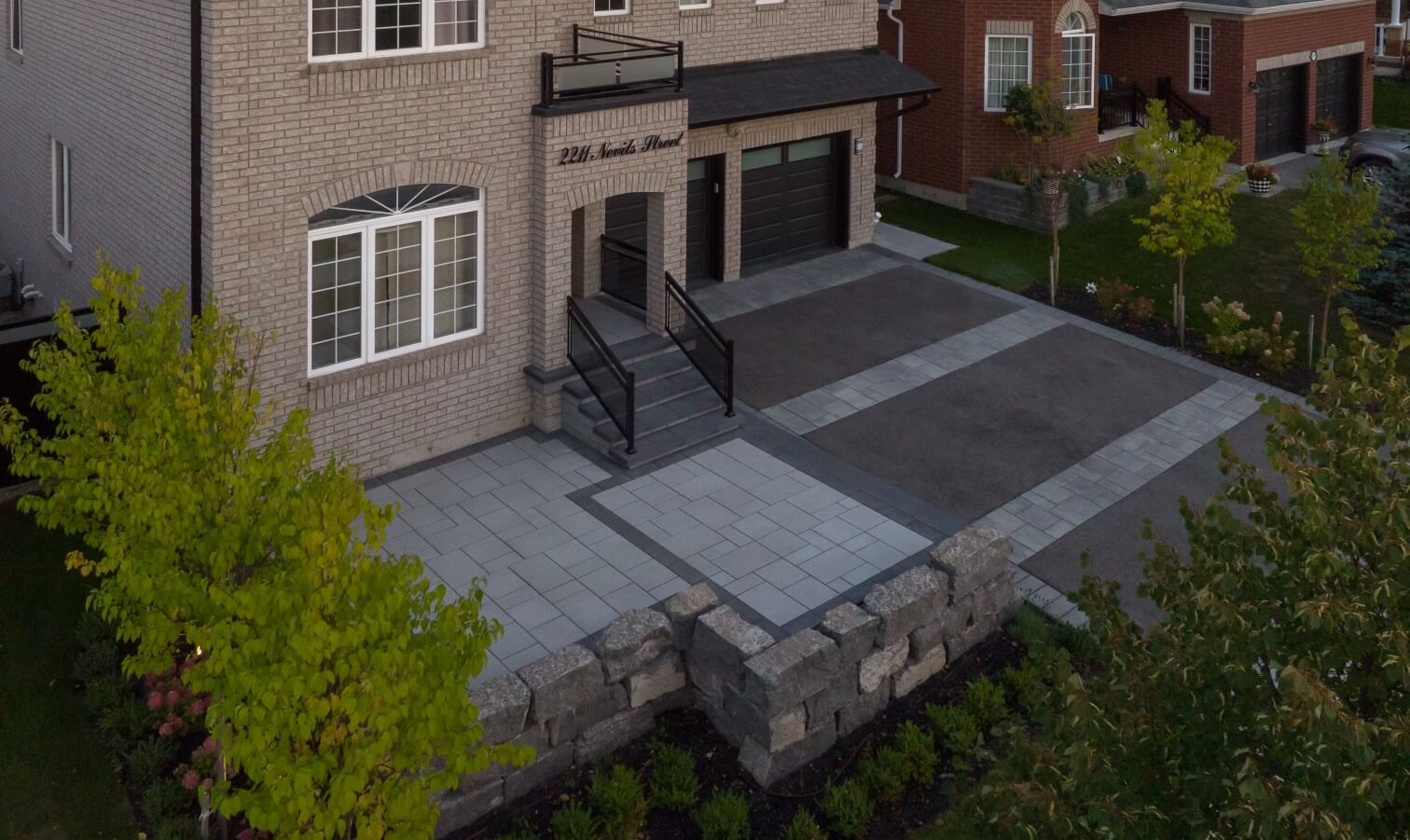 We Support Green!
As a company, we are committed to making our projects as environmentally friendly and sustainable as possible. You can't go wrong – greenery serves a dual purpose, contributing to removing greenhouse gases from the atmosphere, while creating an undeniably beautiful backyard aesthetic; the greenery creates a lovely contrast with the neutral tones of your interlocking stones.
Driveway Interlocking
Among the most low-maintenance and long-lasting driveway options are driveway interlocking. Designed for extreme weather conditions, it is resistant to high temperatures, rain, and snow.
Additionally, they are suitable for slip-free options in wet or slippery weather, as they allow your shoes to grip the surface. Driveways benefit from these excellent drainage systems, which prevent snow and ice buildup. Rest assured, you will be covered for all four seasons!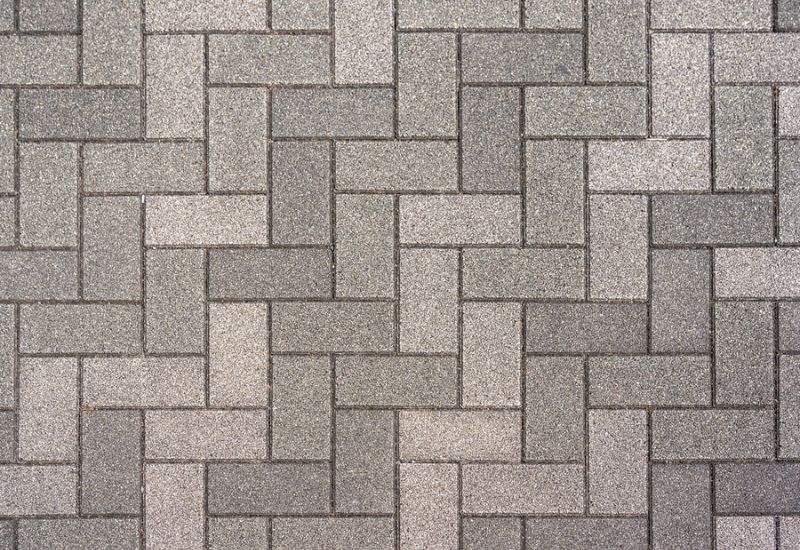 Walkway, Patio & Porch Interlocking
The versatility and durability of interlocking make it an excellent choice for patios, porches, and walkways. Your home can be customized with a huge variety of stonework options to match your personal style. Aside from increasing the value and curb appeal of your home, these areas also serve as pathways and seating areas, evoking a warm and welcoming feeling that leads you and your guests into your home.
Backyard Interlocking
Create an attractive and functional outdoor space or elevate your current space with interlocking – a durable and low-maintenance solution. Concrete, cement, or natural stones – granite, cobblestone, limestone, flagstone sandstone, marble, slate – can all be used, depending on your desired look. The modular and linear shapes come together to create uniquely cohesive designs for a stylish, personal touch to your outdoor living space.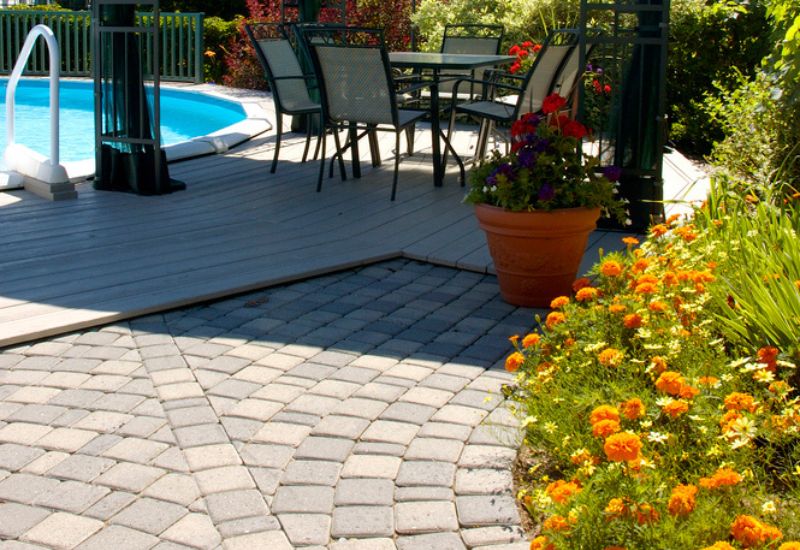 Professionalism
With 70+ years of combined interlocking experience, we have been able to perfect our craft and offer you the best of the best.

100% Satisfaction Guaranteed
We won't rest until you are happy with our work. 

Customer Support
We are here to guide you, every step of the way.

The Right Tools 
We have the best tools to help us perform quickly and efficiently.

Affordable Pricing
We maintain a competitive edge by offering pricing that just makes sense.

Experience
There is no job you can throw at us that we can't handle.
Frequently Asked Questions